What is the Parents Area?
The Parents Area is where you can find out more about your child's progress and learning journey with Lingokids. In this section, you can find updated news about the app's features, explore our curriculum, monitor your child's progress, locate information about your subscription, and more! It includes the Parents Community, Curriculum, Progress Center, and Setting sections.
To access it, first tap the child profile icon (character avatar) on the upper left corner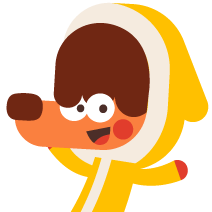 .
A drop-down with options will be exhibited, press the option "Parents Area."
The parental control screen will be shown; tap on the numbers to unlock the screen.
Home Screen at Parents Area - Parents Community
The Parents Community is the place where articles about parenting (and more!) live. Here you will find helpful tips about parenting, information about early education and pedagogical tools, news about the app and activities, and further trending subjects. You can read about the guidelines on how to use the Community here.
Curriculum
The Lingokids Curriculum is made up of 10 units that each contain 6 topics. In the Curriculum section, you can view all of the topics, their activities, and progress.
Unlimited User Pro Tip! You can download the activities of your choice and use offline mode. You can use the small arrow download icon that appears in each activity. You can play downloaded activities without an internet connection.
Progress Center
Would you like to see the progress your child is making while learning English with us? Enter the Progress Center section! Here you can find updates on the words your child has learned and how much time they have spent with Lingokids this week! You can press a word to hear how it's pronounced and encourage your child's listening skills.
Settings
In Settings, you can manage your account, your child's profile, and set up reminders. You can also download additional materials and worksheets to use at home with the whole family from the section "Printable Worksheets"
This is also a great place to get additional help or answer any questions you might have about your account. For information about how to upgrade, downgrade, or manage your subscription, please read here.
In this section, you can configure up to 4 profiles for your children. You can select which child you would like to use the application to personalize each experience from this section or from the Kids Section. To switch between profiles, simply tap "Child Profile in Settings. To edit a profile simply tap "Edit" and the profile you would like to modify. You can read more about child profiles here.
Do you want to set up practice reminders for your child? Tap on "Edit Reminders" and select the days and the best time for your child to practice. We will send you a reminder in the selected schedule for your child to play and learn with Lingokids!
Any questions? Please reach out to us with any questions or comments you might have at the Help button

on the lower right corner.