How does Lingokids work?
Lingokids is simple. Children learn while they play. The app will adapt to the level of the child, adding complexity as your child progresses. The lessons follow a curriculum that focuses on a new topic every week of the year. Each topic consists of learning activities such as games, traceables, videos, songs, and more. The interactive activities each have 6 levels of grammatical difficulty. Activities also are connected to mini-tests that help parents understand how much vocabulary their child has learned.
The app is simple, but it is worth it to take a moment to familiarize yourself with each part!
Kids Mode
Your child only needs to enjoy learning through play! The learning occurs as they play activities. They can play different activities multiple times with increasing difficulty until they have fully understood the concepts and vocabulary.
The Learning Path
The curriculum of Lingokids is structured on weekly topics. These topics make up the Learning Path. The topic that corresponds to your child each week is marked with a small label in the upper right corner that says "Learn Now". The following week, the next topic will be featured. 
We recommend that each activity in this topic be repeated as many times as possible throughout the week. The other four topics that appear in Kids Mode are the two previous topics in the Learning Path (in case you want to review them) and the next two topics (in case you end up with the theme of the week and want to continue advancing). 
In our method, the repetition of activities is the best way to solidify a child's learning. Repetition helps make language skills automatic. The repetition of activities will also help your child receive stickers. Each time a student completes an activity, they receive a sticker! The Sticker Album is fun way to track your child's progress and motivate them to keep learning! You can read this article to learn more about how the Sticker Album works.
If you would like to explore activities outside of the Learning Path that's ok, too! In Kids Mode, simply use the icons above to select games, songs, and audiobooks. These will contain activities from a variety of topics.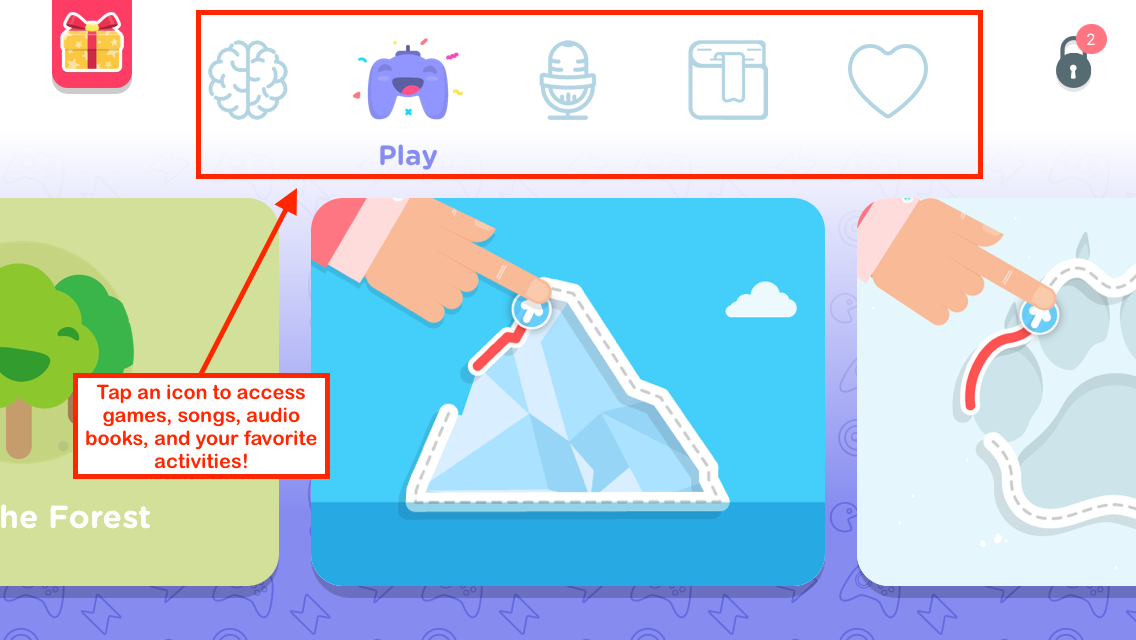 You can also press "... and many more" to see a complete list of activities in each icon. 
You can find more information about our learning methodology here.
Parents Mode
Parents Mode contains everything related to the learning program and progress of your child. It includes the Timeline, Curriculum, and Setting sections. 
Read and answer the parental control question.
The Timeline is the place to see the newest updates on your family's experience with Lingokids. Find news, updates on your child's progress, alerts about new content, and a lot more! 
Curriculum
The Curriculum includes a view of all of the themes and corresponding activities by type. For example, you can view the "Numbers" theme with all of the games, songs, and activities that relate to this theme.
You can save your favorite activities so that you can easily find them later!
Simply press the heart on top left corner of an activity. Then press the "Favorites" button on top of the screen. There you will find all your favorite games and videos!
You can also press the "Favorites" icon in Kids Mode to find your favorite activities. 
Unlimited User Pro Tip! Want to choose specific activities for your child to learn? You can download the activities of your choice and use offline mode. You can use the small arrow download icon that appears in each activity. You can play downloaded activities without internet connection. 
Tests
Want to know what your child has learned with Lingokids? Your child can take a mini-assessment after successfully completing and mastering all of the activities in a topic.
You can find available tests for each topic by entering Parent's mode and tapping the Curriculum button. Then, select the topic you would like to test. The test will appear above the topic's games and activities. You will receive a notification when new tests are ready!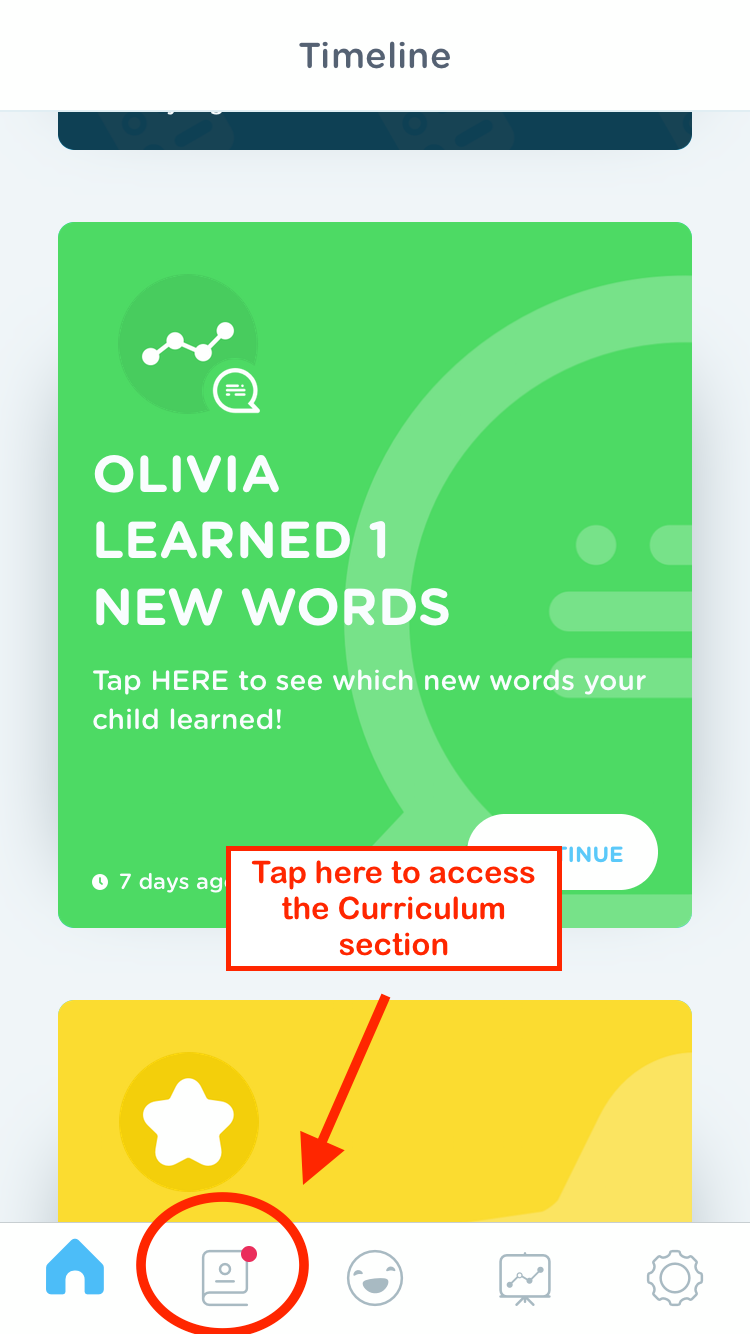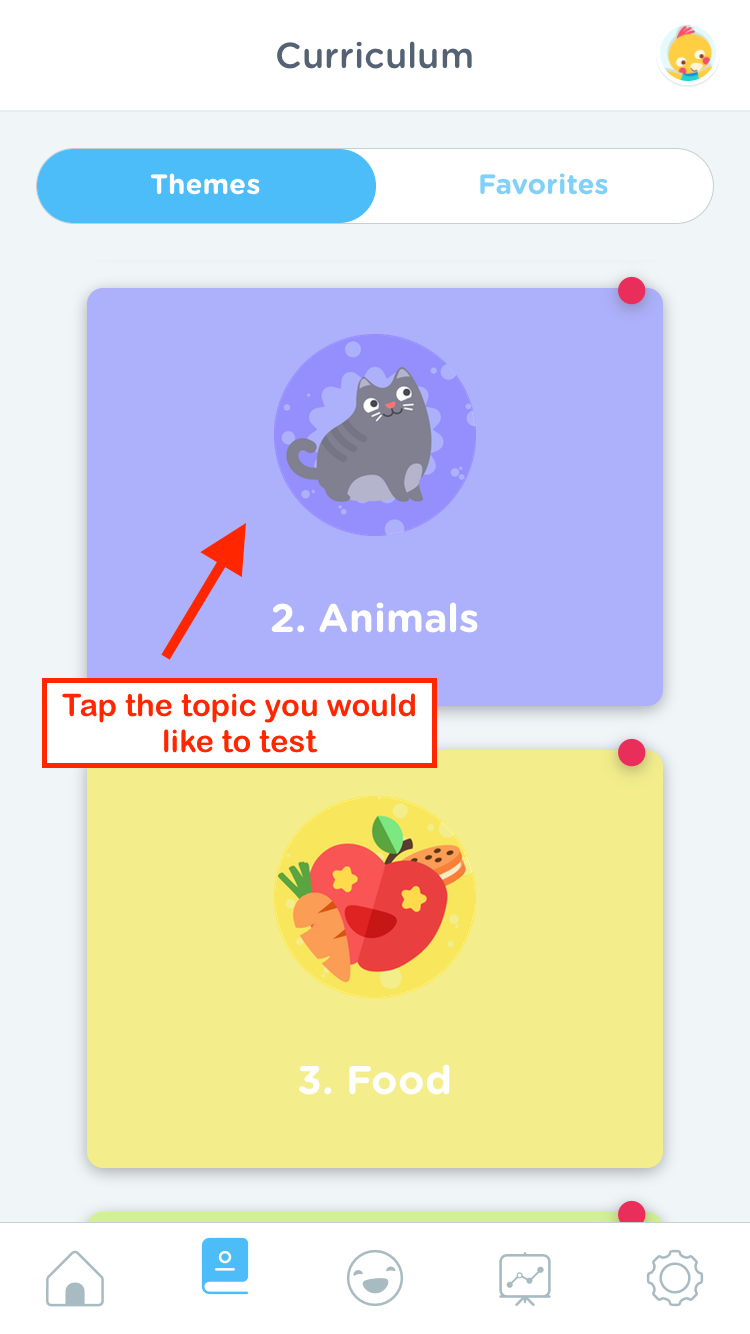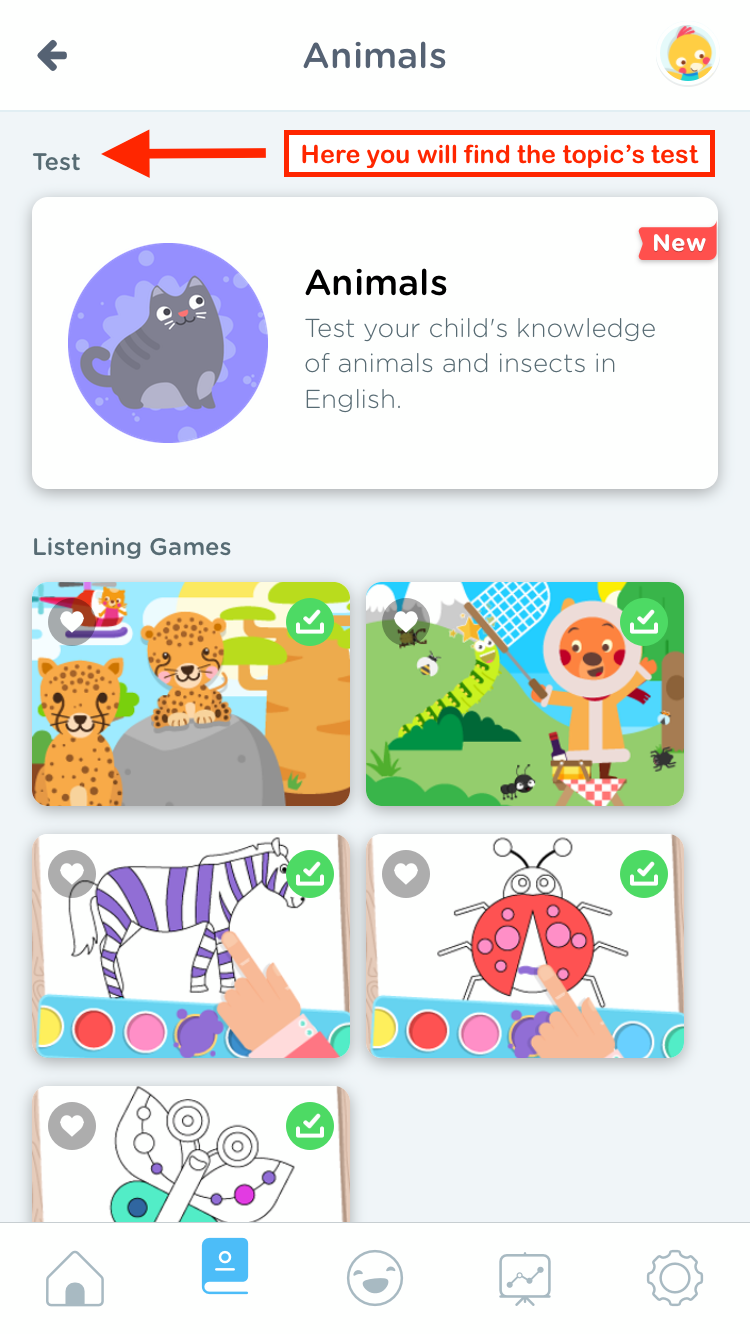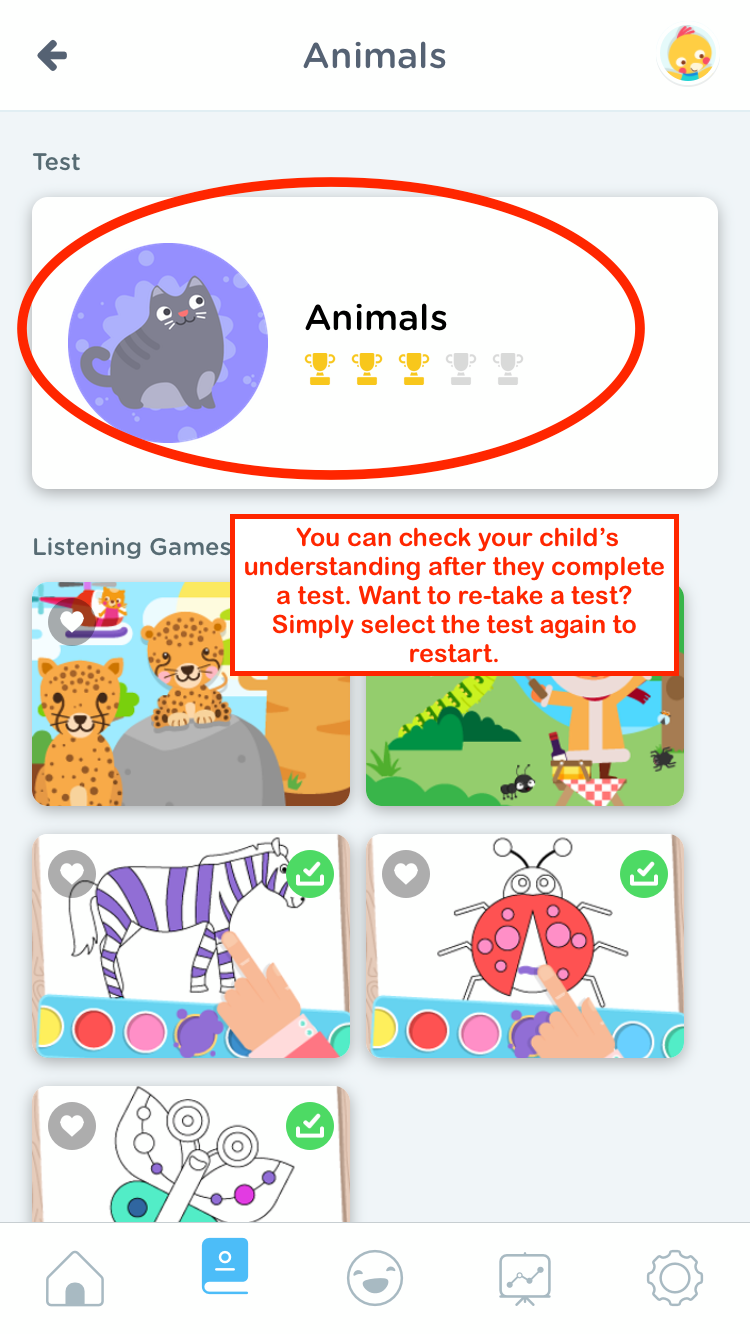 These assessments are a great tool that will let you know where your child is making progress and where there are areas for improvement. If your child is having trouble completing a test, simply review that topic's activities and try again. Your child can take these tests as many times as they like! You can learn more about these tests here.
Progress
Would you like to see the progress your child is making while learning English with us? Enter the weekly reports section! Here you can find weekly updates on the words your child has learned and how much time they have spent with Lingokids this week!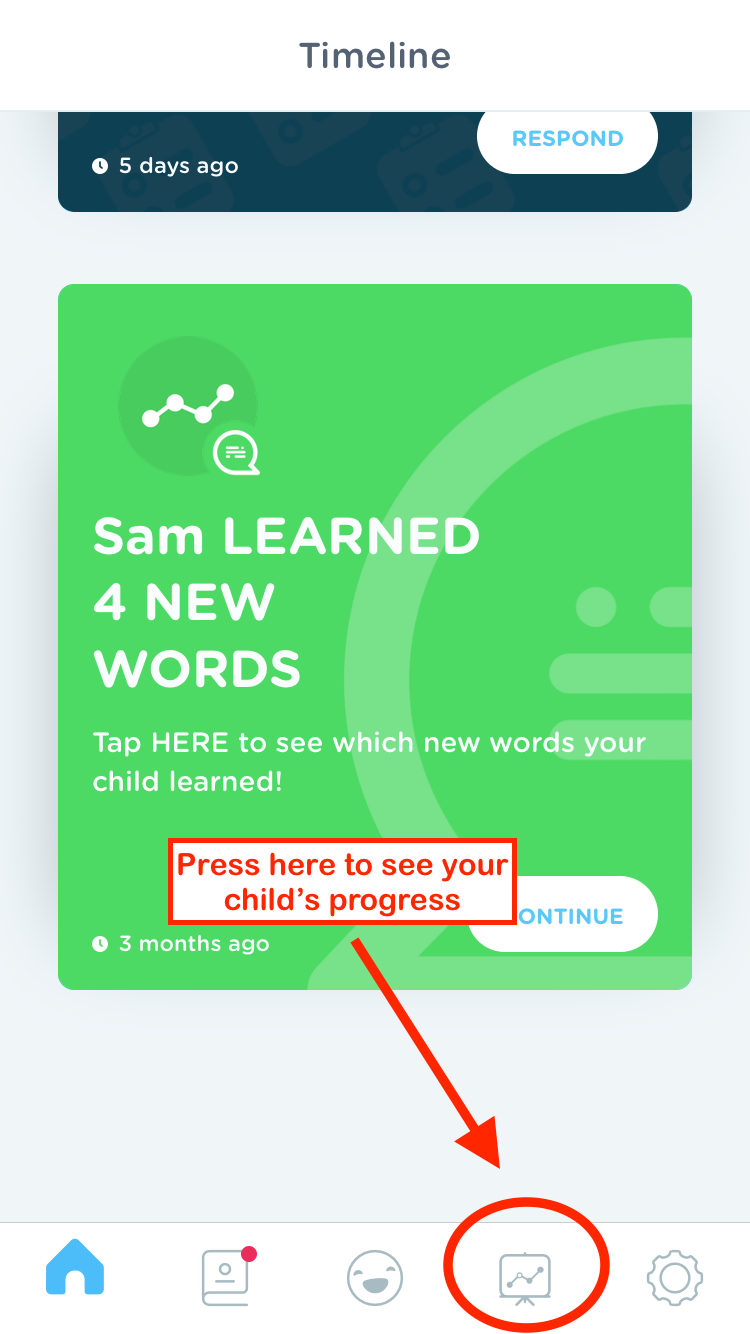 Settings
In the parents section, you can choose the profile of the child and see each child's progress. You can also download additional materials and worksheets to use at home with the whole family from the section "Printable Worksheets"
This is also a great place to get additional help or answer any questions you might have about your subscription. For information about how to upgrade, downgrade, or manage your subscription, please read here.
Student Profile
In this section, you can configure up to 4 profiles for your children. You can also select which child you would like to use the application to personalize each experience. To switch between profiles, simply tap the profile. The profile chosen will be selected in blue.

Any questions? Please reach out to us with any questions or comments you might have! You can reach us at hello@lingokids.com.