Lingokids is simple. Children learn while they play. The app will adapt to the level of the child, adding complexity as your child progresses. The topics follow a curriculum that focuses on a new topic every week. Each topic consists of learning activities such as games, traceables, videos, songs, and more. The interactive games each have 6 levels of grammatical difficulty. Some activities incorporate mini-tests that help parents understand how much vocabulary their child has learned.
Where should my child start learning? Kids Mode of course!
Your child only needs to enjoy learning through play! The learning occurs as they play activities. They can play different activities multiple times with increasing difficulty until they have fully understood the concepts and vocabulary.
The curriculum of Lingokids is structured on weekly topics. The topic that corresponds to your child each week is marked with a small label in the upper right corner that says "Learn Now".
We recommend that each activity in this topic be repeated as many times as possible throughout the week. The other four topics that appear in Kids Mode are the two previous topics (in case you want to review them) and the next two topics (in case you end up with the theme of the week and want to continue advancing). 
In our method, the repetition of activities is the best way to solidify a child's learning. Repetition helps make language skills automatic. The repetition of activities will also help your child receive stickers. Each time a student completes an activity, they receive a sticker! The Sticker Album is fun way to track your child's progress and motivate them to keep learning! You can read this article to learn more about how the Sticker Album works.
If your child would like to explore activities outside of the Learning Path that's ok, too! In Kids Mode, simply use the icons above to select games, songs, and audiobooks. These will contain activities from a variety of topics.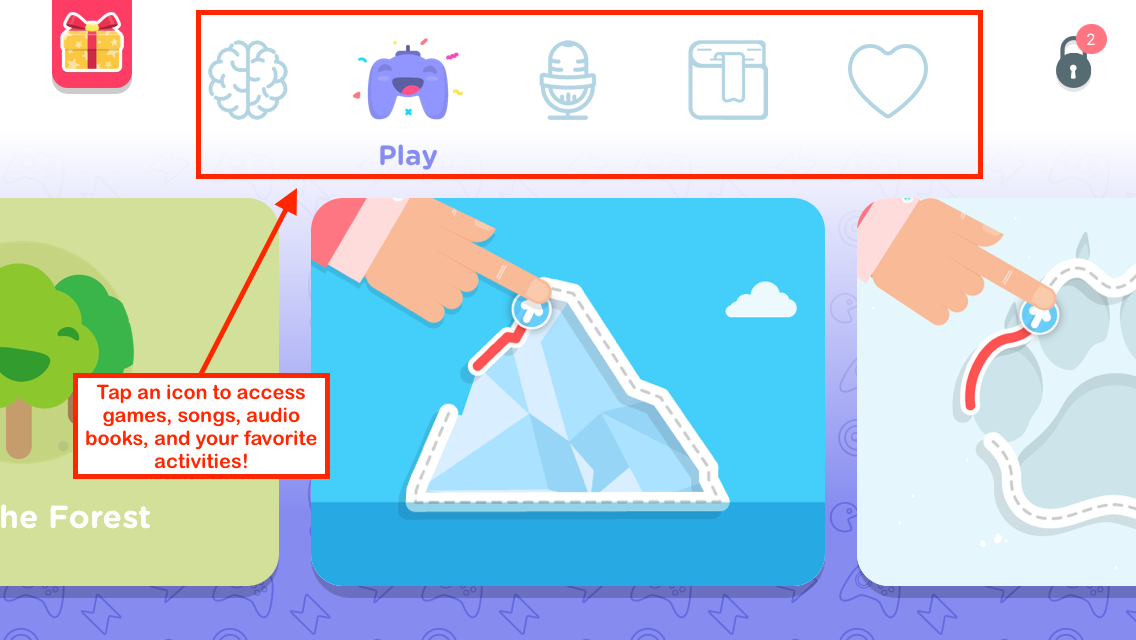 You can also press "... and many more" to see a complete list of activities in each icon. 
You can find more information about our learning methodology here.
Once all the activities have been completed without errors, the test corresponding to that topic will be unlocked in the Curriculum section in Parents Mode. 
Where do I find my subscription settings, student profiles, tests, and extra learning material?  The "Parents" Section!
The "Parents" section contains everything related to the learning program and progress of your child. It includes the Timeline, Curriculum, Progress Reports, and Settings sections. 
Read and answer the parental control question.
Here you can find the Timeline, Curriculum, Progress, and Settings sections.  
In the Timeline you can find news, updates on your child's progress, alerts about new content, and a lot more! 
The Curriculum section provides a complete list of learning topics and activities. After mastering activities, tests are unlocked within the topics in this section.  
Would you like to see the progress your child is making while learning English with us? Enter the weekly reports section! Here you can find weekly updates on the words your child has learned and how much time they have spent with Lingokids this week!
Finally, you can find your subscription settings and child profile in the Settings section. 
You can read more information about Parents Mode here. 
Any questions? Please reach out to us with any questions or comments you might have! You can reach us at hello@lingokids.com.