The content your child sees is controlled by our Learning Gears™ system, which adjusts each activity to his or her progress every time he or she plays. The level will change for every activity depending on how well your child knows the topic.
The grammatical structures of each interactive activity change according to your child's unique learning speed and correct answers. There are six levels of difficulty. This is how a phrase might be presented at each Learning Gears™ level:
Apple​.
She wants an apple​.
She is asking for an apple
Could you give her an apple​, please?
I think an apple​ is just what she wants.
I'm guessing an apple​ would be a good choice.
It is important that your child plays the interactive activity multiple times, not only to reinforce and commit to memory the learning objectives, but also to gain exposure to all of the levels of grammatical structures.
Want to know what your child has learned with Lingokids? Visit the Progress Center section to see updates on the words your child has learned and how much time they have spent with Lingokids!
To do so, first tap the child icon (character avatar) on the upper left corner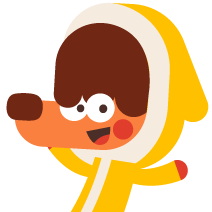 .
A drop-down with options will be exhibited, press the option "Parents Area."
The parental control screen will be shown; tap on the numbers to unlock the screen.
You are at Parents Area! Next, click on the Progress Center section
.
Navigate through the Progress Center to see the information about vocabulary development and topics practiced.
Additionally, you can scroll down the page and see the other that your child has learned, press a word to hear how it's pronounced, and repeat together to encourage your child's listening skills.
A blue symbol will appear to highlight the reinforced words!
If you have questions or comments, please reach out to us at the Help widget
on the lower right corner.