Our Unlimited plan gives your family unlimited access to updated activities, additional material, progress reports, multi-profiles, and an offline mode, all from our App.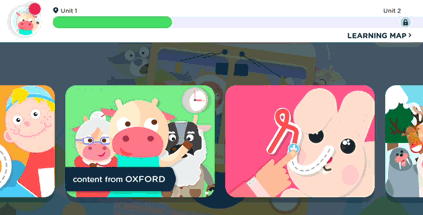 As your child follows our guided curriculum, you can check their progress in the Learning Map. As they play, they will be able to access all of the interactive activities with approved educational content from Oxford University Press, alongside videos, writing exercises, and "My teacher" mini-lessons. We also have audiobooks, memory games, and more.

You can enjoy our Additional Material and printables to reinforce your child's learning with fun songs and activities. You can also play whenever, wherever with the ability to download content for use offline. If you have more than one child, enjoy our multi-profile option, so you can have different profiles for each of them (paying for only one subscription!). Finally, your child can see what he or she has learned by checking our Progress Center. You can learn about all of these great features by reading the Welcome Guide. Please feel free to contact us if you have any questions.

How much does Lingokids Unlimited cost?
View our current promotions and prices for Lingokids Unlimited.

Parents can subscribe to a subscription plan using a credit or debit card or a PayPal account and all payment information can be found when subscribing. Parents can also subscribe to the Unlimited plan from within the app using a Google or Apple account.

Do you have questions? Reach out to us at hello@lingokids.com