Lingokids is developed using content from Oxford University Press, the world's largest academic publisher.
Educators all over the world trust Oxford University Press to teach their students. Our partnership with Oxford University Press means that your child will have access to high-quality learning materials.
Our curriculum incorporates well-known courses from Oxford like 'Little Friends', a reading and writing course popular with pre-kindergarten educators around the world. With a Lingokids Plus subscription, you can access all this Oxford-approved content and much more!
Playlearning™ with Lingokids and Oxford!
Lingokids' alliance with Oxford University Press (OUP) motivates children to continue learning by playing. Users who purchase books from Oxford enjoy our unique PlaylearningTM experience as an extra resource with the book. Users get Oxford-quality content with a Lingokids twist!
We collaborate with three OUP books:
Jump In

Mouse and Me

Show and Tell
Oxford University Press codes don't expire, which means you will always have OUP book content available to you. However, if you do not have a subscription to Lingokids, you will not have Lingokids Plus access with those codes.
Where can OUP activities be found?
Currently, we have two options to access all the Oxford activities:
Kids Area:
👉 Oxford button in the bottom left corner.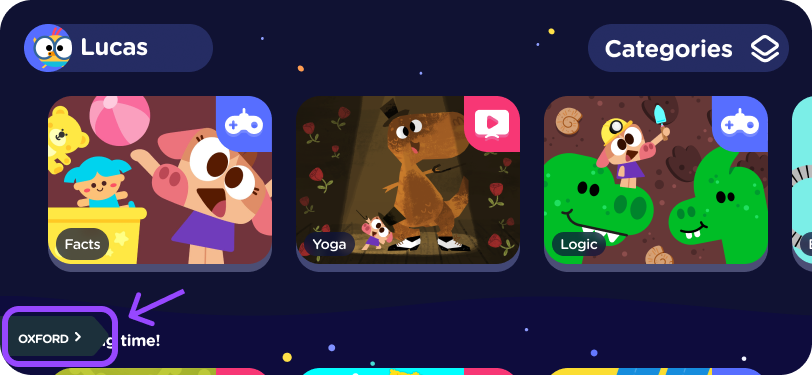 Parents Area:
👉 In the Extra Content tab of the Curriculum section.