The Kids Area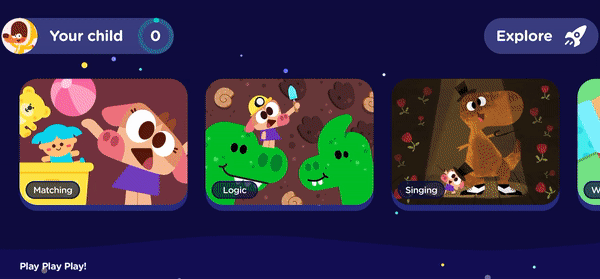 Feeds
We have organized our content into different feeds, such as topics, packs, last played, popular, favorites, and more. Children can easily look for activities and have access to a greater selection of varied content.
They'll browse through infinite rows of fun activities and discover the wonderful world of Lingokids.
Explore
This is our dedicated section for kids and parents to browse our catalog so they don't miss any activities. You can search for specific subjects in this section, such as reading, art, music, and much more.
In this section, you can browse by subjects such as reading and literacy, math, science, engineering, and more. You will be able to filter activities by:
Top activities

Only videos

Only games
Here you will find the specific content you want, seeing the most popular new activities and the best selection of content in each category.
Activities
At Lingokids we are constantly improving content and working on new activities based on kids' interactions with the app. We work to understand their needs and develop new ways of shaping academic and social-emotional skills.
Check out our different types of activities here.
Kids Profile
With our Unlimited plan, you can create up to 4 profiles without having to pay an additional fee. You can also access your Unlimited account from as many mobile devices as your heart desires.
To switch between profiles, follow these steps.
The Parents Area
In our Parents Area, you can learn more about your child's journey and progress with Lingokids. In this section, you can also explore our curriculum, access your account, check information about your subscription, and more.
To access the Parents Area, follow these steps.